Archontophoenix alexandrae
Family: Aracacaea Origin: Native to Northern and Central Queensland, Australia
A key feature of the Alexander Palm is its capacity to tolerate heavy inundation under heavy rain events. This survival quality has made the palm a dominant species in tropical Queensland. It is not locally native to Brisbane so the similiar Bangalow palm should be planted instead.
Favoured for its beautiful shaped and clean visual appearance compared to some other palms, the Alexander has been cultivated for gardening and now grows prolifically across Southern Queensland and areas of northern New South Wales.
It will grow to an average height of 15 metres. Spectacular in outdoor environments, this is a palm that can also be grown in pots in semi-indoor environments such as covered courtyards and patios.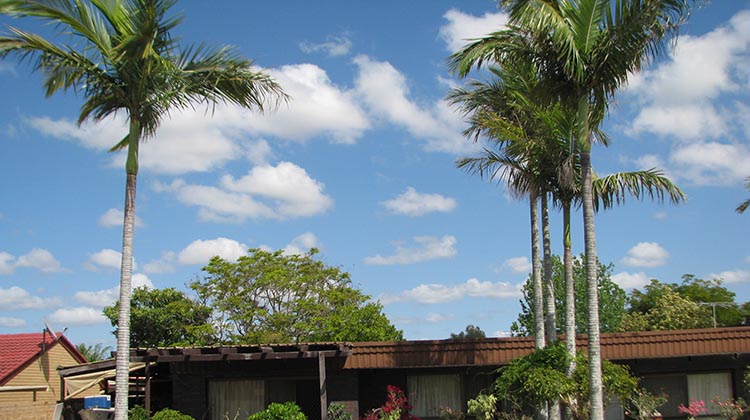 Arboriculture
Growth form
At full maturity, Alexander Palms have a tall, slender trunk that tapers from a 50-60cm width at the base of the tree to a 25-30cm width at the top. They are crowned with up to a dozen, long leaf fronds that cluster at the top.
Trunk
Pale grey and with just-visible leaf scars yet tidy due to the palms' self-cleaning characteristics. The trunk of the Alexander Palm is slightly bulbous.
Flowering
Alexander Palms sprout hanging tendrils of white or purple flowers that appear after their three bract enclosures open during spring. The flower clusters are often 1 metre long, with a width of about 50cm. Both male and female flowers are present in the clusters. Flowering below the crown shaft on a clean trunk, the Alexander Palm displays a necklace effect when in bloom.
Foliage
The leaves have dark green upper surfaces with a pale, white underside. They are twisted, rather than flat and carry 60-80 leaflets per 4.5 metre stalk. The base of each stalk is bright green in colour and extends 1 metre throughout the crown shaft. This firm attachment allows the Alexander Palm to securely hold its leaves, even during tropical storms with high winds.
Although pointed at the tip, the leaves do not have the spikes of sharp edges common to some types of palm.
Fruits
Initially green, the trees' fruit develops a bright red colouring as it ripens. This fleshy covering drops and the fruits open to reveal fibrous brown innards.
Promoted as a replacement to Cocos Palms, which produce a fruit toxic to many Australian native animals, the Alexander Palm had for a long time seemed a safe alternative. However, given the giant seed harvest per plant and successful seed dispersal methods, it is now spreading from cultivation to infest waterways and riparian areas.
Management
Propagation
Alexander Palms propagate from seed with germination occurring in as little as six weeks. Seeds are ideally sown in spring in areas of partial shade to full sun. The trees will not tolerate frost, especially at the seedling stage. This can be managed by developing juvenile tree in indoor pots before transferring to the garden.
Birds and animals assist in the propagation of Alexander Palms but it is likely their seeds are dispersed in waterways and through dumped garden waste also.
Cultivation
Preferring acidic soils, the Alexander Palm should be fed an appropriate palm fertiliser to maintain health. They should also be mulched but with the mulch kept away from the very edges of the trunk where it could encourage rot. Soils with good drainage are also necessary to prevent rot in the trees' root system.
While drought tolerant, the plants respond to generous watering. Bugs and insects can be a problem for these palms and they can become infested with spider mites, leaf spot or other palm insects.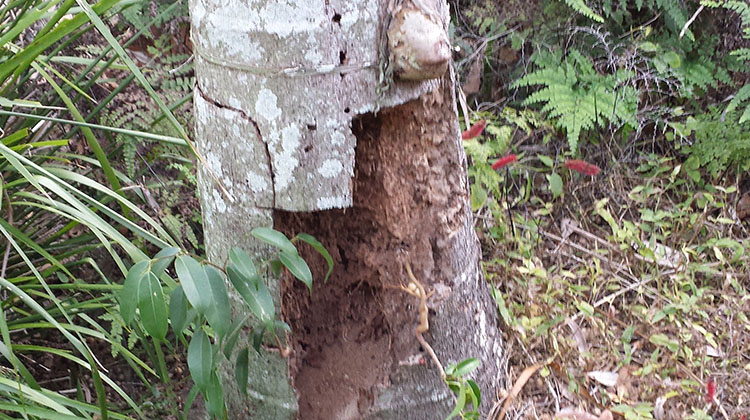 Fast growing, the expected rate for a specimen kept in suitable conditions is 1-1.3 metres per year. A popular planting method for this variety is to crowd two or more seedlings into one hole. This encourages the trunks to turn away from each other during development and gives a stylish spread effect to parks and gardens.
We now recommend removal of alexander palms from house blocks located near environmentally-sensitive areas such as bushland and creeks. They are categorised as an environmental weed due to displacing Brisbane's native bangalow palms.