Buckinghamia Celsissima
Family: Proteaceae     Origin: Rain forests from Mt Spec to Cooktown
The Ivory Curl is a beautiful feature tree often seen in the backyards and found in undisturbed bushland in its native area. According to the Australian Native Plants Society, the tree is named after Richard Greenville, the Duke of Buckingham. As the tree is common enough in the wild it is not considered to be at risk; proof of its hardiness.
Fruit Production
The tree is not really known for its fruit production, but according to Discover NATURE, the Ivory Curl does produce a small brown fruit. The fruit has a winged appearance to it, and it is not meant to be eaten by anyone, including animals.
Arboriculture
Flowering
The flowers on the Ivory Curl are possibly the crowning jewel of this tree. The times in which this flower really depends upon the weather, but for the most part this is spring time through early autumn. The flowers cluster together, to the point in which they appear to overtake each branch of the tree. The flowers are white with a yellow tint in color, and they do attract butterflies and bees when flowering.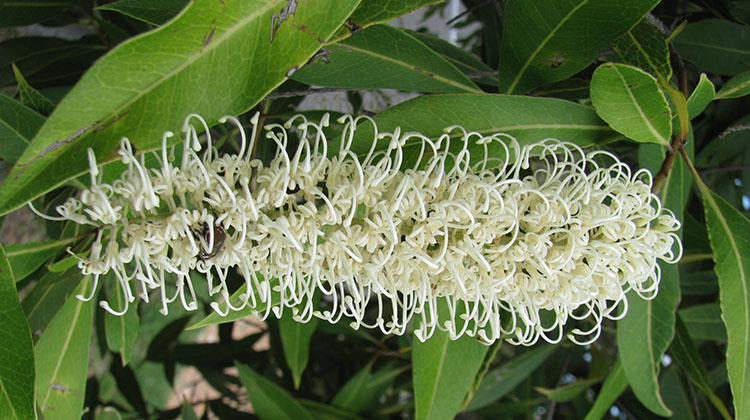 Growth Form
In the wild, the Ivory Curl gets very tall with a bush at the top. Often, the tree is trying to reach the full sun before the leaves and flowers begin. However, in domestic sittings, the tree usually gets 6 or 8 meters high, and can be 2 to 5 meters wide. It does take 3 to 5 years of growth before the tree starts to flower.
Foliage
The leaves of the tree are a dark green color, and on the underside, do have a silver tip. During some point of the year, the leaf may have a red tip that can be seen. The size of the leaves vary.
Trunk
The trunk of the tree is relatively skinny and is a gray/brown color. Branches spread from the trunk in a fashion that creates the rounded top of the tree that is seen.
Management
Propogation
In order to grow the Ivory Curl, the person must have seeds or cuttings available. For faster growth, cuttings often allow the tree to take better in the climate and to grow faster, while seeds often mean taking a chance on the tree surviving, and do mean a slower growth rate.
The Ivory Curl is considered a great tree for adding a bit of color and beauty to a yard. And in many places throughout Australia, this tree is used along sidewalks and in shopping centers to add beauty.
Cultivation
The Ivory Curl prefers dry and warmer climates. It performs well when placed in mulched soil with adequate water availability, and also full sun. Once the tree is established, it is considered drought resistant, and does not need as much water as when it was being established. The tree does not have to be pruned unless a person wants to do this in order to get a better shape of the tree.